PEF's highly-successful and much anticipated Online Auction will take place April 19-28, 2023. This auction is available to all Palos Verdes Peninsula residents and the broader community through the convenience of online bidding. You can shop and gets some great deals while supporting all 17 PVPUSD schools at the same time! Look out for high-quality wines and spirits, one-of-a-kind experiences, amazing vacations, Dodger tickets, health and beauty packages, high school parking spots, orthodontics/braces packages, VIP graduation seats, jewelry and much more!
The online auction opens on April 19 at PEFAUCTION2023.givesmart.com.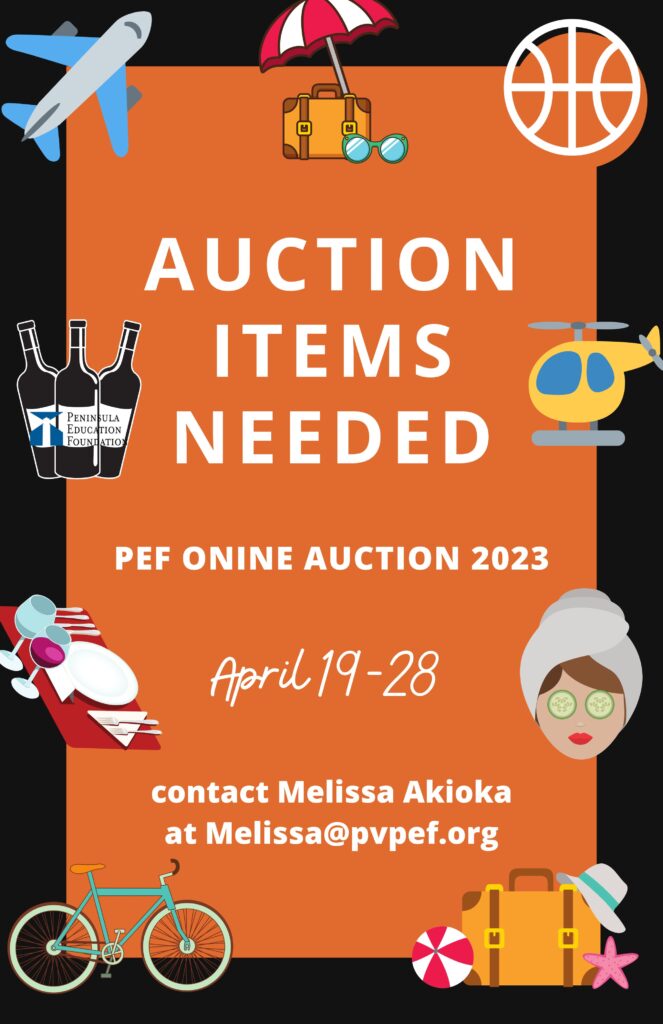 We are looking for individuals or businesses to donate items, tickets, "experiences" or wine to our online auction. This is a great opportunity to support public education and reach potential customers or clients.
Our annual online auction is a success because of the generosity of our community!
Need some ideas?
Tickets to sporting events
Signed memorabilia
Golf outings
Hotel and resort vacations
Vineyard tours and tastings
Mountain/ski passes
Family photoshoots
Concert tickets
Beauty and spa packages
Music lessons
Tasting menu dinners at your favorite restaurant
Boat cruises
Outdoor adventures
If you live in the South Bay area, we can coordinate to pick up your auction item. Please contact Melissa Akioka at [email protected] if you have any questions.